Grace Govett
Dental Nurse
GDC No. 136530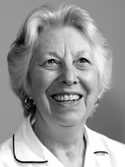 Grace trained and qualified as a dental nurse several years ago in Cornwall.
She left nursing for a few years while bringing up her children and taking care of her parents.
She returned to nursing in 1999 and came to work at Bounty Road Dental Practice. She has enjoyed many years here and has made many friends and seen many families grow up.
Among her many interests outside of work are music and sport.