Dr Dheraima Santarelli
DDS (University of Carabobo, Venezuela)
Diploma in Orthodontics for a general dentist (2015)
Diploma in Paediatric Dentistry (2013)
GDC No. 294367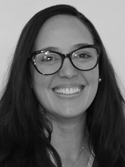 Dheraima qualified as a dentist from Venezuela in 2004. She speaks Spanish and English, and she is learning Italian.
She worked as a general dentist in Venezuela for over twelve years. In 2016, Dheraima and her family relocated to the United Kingdom, and now she lives in Southampton with her husband and three children.
Dheraima has a commitment to her professional development and plans to do further courses about aesthetic dentistry.
When not working at the dental practice, Dheraima enjoys spending time with her family and doing exercise, especially Pilates. Her interests are travelling and learning about other cultures, cooking, and reading about personal development.
Call us on 01256 465764 or email us to make an appointment with Dr Dheraima Santarelli at our dental practice in Basingstoke.